Creating a cozy dining nook in your home can be both stylish and practical. Whether you have limited living space or are just looking for a designated area to enjoy meals, there are plenty of inspiring ideas that will help you transform your home into an inviting space. From modern designs to classic features, this article will highlight some of the best dining nook ideas so you can create a unique experience for yourself and your guests.
Maintain the Architectural Style
Maintaining the architectural style in your home can be a daunting task, especially when it comes to designing a dining nook. But with the right ideas, you can create a beautiful and functional space that complements your home's unique style.
One idea is to incorporate built-in seating into your dining nook. This not only saves space but creates an elegant look that fits seamlessly into traditional or modern architecture. You can also use interesting materials such as reclaimed wood or industrial metal to add character to the seating area.
Another ideas to maintain architectural style in your dining nook is through lighting. Whether it's a statement pendant light or subtle sconces, lighting sets the mood for any space and can elevate its design. Choose fixtures that fit with the overall aesthetic of your home for a cohesive look.
Incorporate Whimsy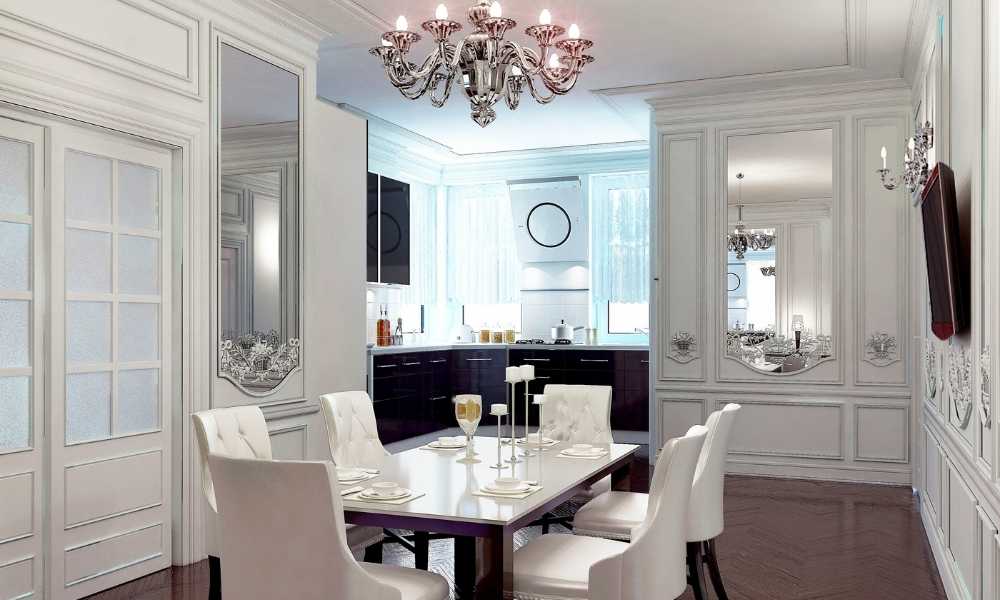 Incorporating whimsy into your space can be just the thing to give it a new lease on life. Whether you're a maximalist or prefer a more minimalistic approach, there are plenty of ways to add some fun and playfulness to your dining area without sacrificing style.
One way to incorporate whimsy into your dining nook is by adding colorful throw pillows or cushions. Mix patterns and textures for added interest, and choose bright hues that will make the space feel cheery and inviting. Another idea is to hang quirky artwork or prints on the walls – think vintage posters, abstract paintings, or graphic illustrations that reflect your personality and taste. You can even create a gallery wall with different sizes and shapes of frames for an eclectic look that's sure to impress.
Get as Cozy as Possible
Creating a cozy and comfortable dining nook can transform mealtime into an enjoyable experience. Whether you have a small space or a larger one, there are many creative ideas to design your own dining nook. It's all about finding the right balance between style and functionality.
Start by selecting furniture that is both comfortable and practical for your space. Consider a table with built-in storage or benches that can be tucked away when not in use. Add some soft lighting, such as pendant lamps, to create the perfect ambiance for dinner parties or family meals.
When it comes to decor, choose warm colors and textures that invite you to sit down and relax. Soft cushions, cozy blankets, and plush rugs will make your dining nook feel inviting even on the coldest of days. Finally, add some personal touches such as artwork or family photos to make the space truly yours.
Bring the Outdoors In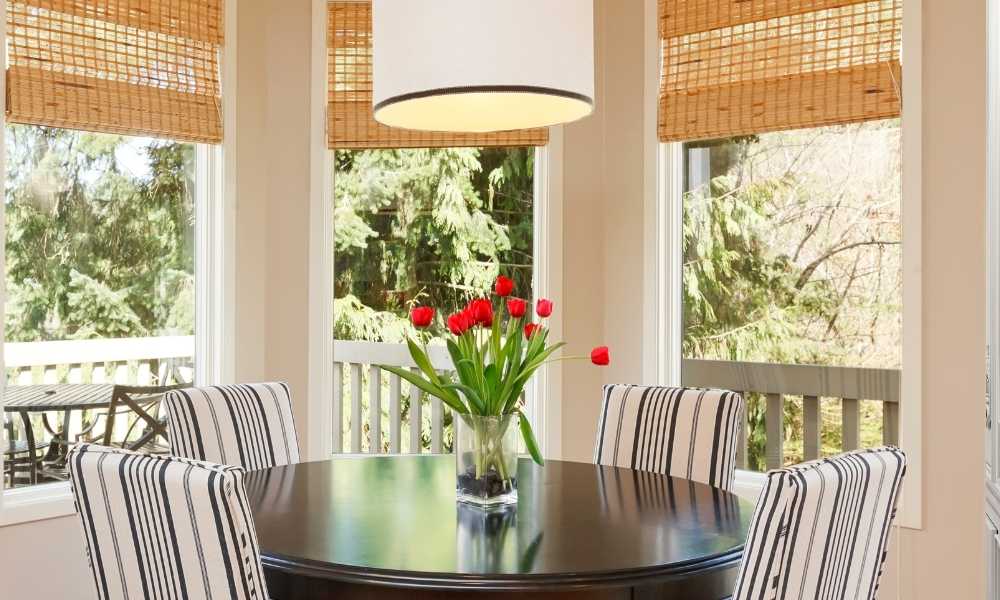 Bringing a touch of the outdoors into your home is a great way to add some fresh and natural energy to your space. One way to do this is by creating a dining nook that incorporates aspects of nature. Whether it's adding plants, using earthy colors or materials, or simply positioning your table near a window with a view, there are endless ways to create an outdoor-inspired dining area.
A great place to start is by choosing furniture that reflects the beauty of nature. Consider using wooden tables and chairs or woven wicker pieces for a rustic feel. If you're looking for something more modern, try incorporating sleek metal accents or glass surfaces for an urban edge. Adding greenery through potted plants or hanging vines can also help bring the outdoors in and create an inviting atmosphere for enjoying meals with friends and family.
Balance Cozy and Bright
When it comes to decorating your dining area, mixing and matching different types of chairs can be a great way to add personality and visual interest to the space. However, it can also be tricky to balance cozy and bright elements while creating a cohesive look. Here are some tips on how to mix and match dining chairs for a stylish yet comfortable feel.
Firstly, consider the overall style of your dining room. If you have a modern space with clean lines, try mixing sleek metal or plastic chairs with wooden ones for an interesting contrast. Alternatively, if your dining area has more traditional elements like wood paneling or ornate lighting fixtures, opt for upholstered chairs in rich fabrics like velvet or suede paired with classic wooden ones.
Another way to achieve balance when mixing and matching dining chairs is by playing with color. Use complementary hues that work well together such as black and white or blue and yellow.
Extend Backsplash
When it comes to dining table centerpiece ideas for everyday, one simple yet impactful solution is to extend your backsplash. By adding a few extra tiles or sheets of the same material used for your backsplash, you can create a cohesive and polished look that ties in with the rest of your kitchen décor. This approach works especially well if you have an open-concept layout where your kitchen and dining area flow into each other seamlessly.
Not only does extending your backsplash add visual interest to your dining table, but it also makes cleanup a breeze. Spills and messes can easily be wiped away without worrying about staining or damaging your tabletop. Plus, since the material matches that of your backsplash, any splatters or smudges blend right in. So not only is this solution stylish and practical but it's also low-maintenance – perfect for busy households!
Add Back Cushions
Adding back cushions to your dining nook can be easy ideas and an affordable way to elevate the style and comfort of your space. Whether you're looking for a cozy spot for breakfast or a stylish place to entertain guests, back cushions can make all the difference. With so many different styles, colors, and fabrics available, it's easy to find the perfect set of cushions that will complement your existing decor.
Not only do back cushions add style and comfort to your dining nook, but they also provide much-needed support for your lower back. Proper posture is important during meals as it can help prevent discomfort and fatigue over time. By adding supportive cushions to your seating arrangement, you'll be able to enjoy long hours of conversation and delicious food without experiencing any strain on your body.
Perch by a Window
Window Dining Nooks are a great way to enjoy the view while dining. Here are some ideas for creating your own window dining nook.
1. Start by gathering a few pieces of furniture that will work well together and have a neutral theme. This will help you create a cohesive look for your nook without having to spend a lot of money.
2. Add some natural light with large windows or overhead light fixtures. This will let in plenty of daylight and make your nook feel more inviting and comfortable to sit in.
3. If you have extra space, consider adding plants or flowers to add color and life to the space. You can also opt for sleek furniture that doesn't take up too much room, like benches Or chairs with Ottoman-style seats.
Make It Kid-Friendly
Parents today are always on the lookout for dining options that are kid-friendly. Whether you have young children or just want to make your home-cooked meals a little more appealing, there are plenty of ideas below to help make your dining room more inviting. From built-in seating to tabletop toys, these tips will make everyone comfortable and eating their dinner.
1. Start with an inviting centerpiece. A vase of fresh flowers or a pretty bowl of fruit can set the tone for a sweet and bright dining room. If you have kids, try out some brightly-colored miniature chairs or a stack of bean bag chairs for them to sit in.
2. Keep the furniture lightweight and easy to move around. Choose low-slung tables with storage underneath, or choose modular pieces that can be rearranged as needed.
Use Cheerful Colors
When decorating your dining area, consider using cheerful colors to set the mood. So A brightly colored tablecloth Or runner can add a pop of color And can help to create a warm and inviting atmosphere. Other ideas for adding cheerfulness to your dining space include painting or decorating the walls in a light shade of blue or green, choosing colorful window treatments or accessories, And bringing in some fresh flowers. Whether you want to create a more casual setting Or create an intimate environment suitable for special occasions, using cheerful colors will help you achieve your goal.
Create a Gallery Wall
If you're looking for a creative way to spruce up your dining area, consider creating a gallery wall. This simple but effective decorating idea is easy to put together and can be customized to fit any room. Here are some tips on how to create a gallery wall:
1. Start by selecting a few pieces of art that inspire you. Whether you prefer contemporary or traditional pieces, it's important to have something in common when it comes to the artwork on your wall.
2. Arrange the artwork according to style or theme, If desired. For example, If you have a rustic farmhouse vibe going on in your dining area, Try grouping pieces that reflect this motif together on your wall.
3. Lastly Use old couches And chairs as makeshift frames for the paintings, adding extra personality And character to your space in the process.
Be Resourceful
If you're looking to spruce up your home's dining space without breaking the bank, be resourceful. Here are a few ideas to get you started:
. Look for unique pieces that can be used as both a centerpiece and seating. Then A vintage coffee table can easily become the focal point of your room with a colorful cloth cover And some pretty chairs.
. Another option is to go for a rustic look by using reclaimed wood or metal furniture. This will add a touch of character while still being comfortable enough for everyday use.
. Lastly, If you don't want to spend too much money, consider repurposing items you already have in your home. So An old door can be transformed into a lovely tablecloth holder, And mismatched chairs can be turned into charming side tables.
conclusion
In conclusion, we've shared some dining nook ideas to get you started. Whether you're looking for a cozy spot to enjoy your morning coffee or a spot to gather with friends for dinner, these ideas will help you create the perfect space for your needs. So what are you waiting for? Start planning your perfect dining nook today!