Master bedroom ideas can be as unique Or traditional as you like, But there are some key elements that will make the space cohesive And comfortable. Start by selecting a style that you love, And then using it as a jumping-off point for other elements. Whether you want traditional features like a canopy bed Or something more modern like storage benches, find what works best for your personality And lifestyle.
Design a Monochromatic Room
When it comes to interior design, The old adage "less is more" definitely rings true. A monochromatic room is a great way to achieve an elegant And sophisticated look without using a lot of different colors. In fact, Using just one color can help to create a cohesive And unified space.
There are a few things to keep in mind when designing a monochromatic room. First, Choose a color that you love And that will make you feel happy And relaxed. Second, Stick to different shades And tones of that color for your furniture, Walls, Floors, And accessories. This will help to create a harmonious look in the room.
Finally, Don't be afraid to use different textures And patterns in your design. For example, You could add some textured throw pillows Or a rug with a geometric pattern.
Paint the Ceiling
Painting the ceiling is an easy and inexpensive way to add a touch of drama and style to your bedroom. While most people focus on painting their bedroom walls, the ceiling offers an opportunity to create a unique look that can tie together your entire decor scheme. Here are some tips on how to decorate your bedroom wall by painting the ceiling.
First, choose a color that complements your existing decor. This could be a neutral shade that matches Or contrasts with your walls, Or it could be a bold hue that makes a statement. Remember that darker colors will make the room feel smaller, While lighter colors will make it appear more spacious.
Next, Consider adding texture to your painted ceiling. You could use stencils Or stamps to create patterns Or shapes on the surface, Or you could opt for a textured paint finish such as popcorn Or sandstone.
Install Black Wall Paneling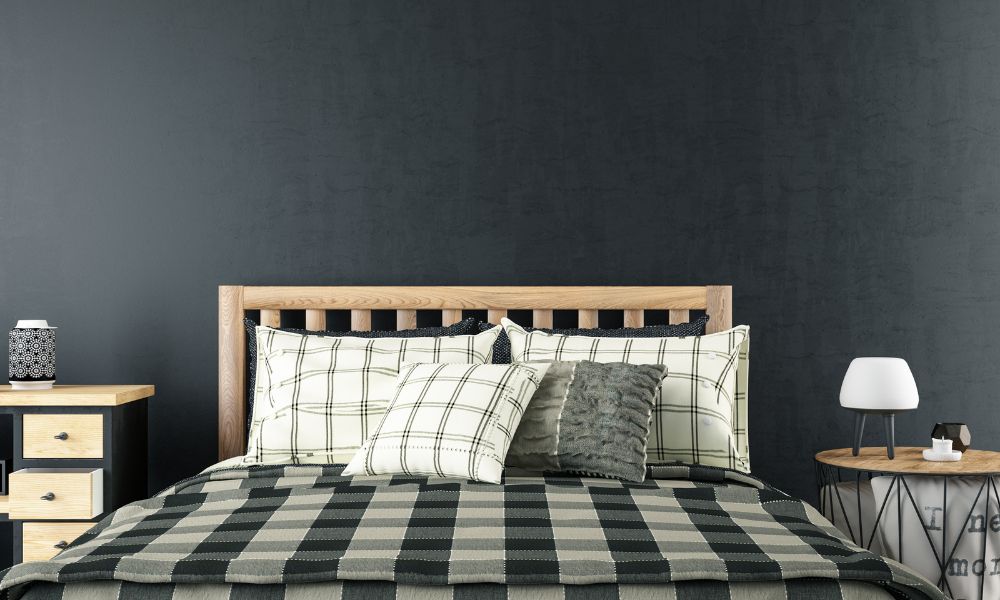 Adding black wall paneling to your master bedroom can give it a modern And sleek look. It is also an excellent way to create a focal point Or accent wall in the room. Black paneling works well with a variety of decor styles, from minimalist to rustic, And can be paired with bold colors Or neutral tones.
Before installing black wall paneling, Consider the size And layout of your master bedroom. A larger room may benefit from floor-to-ceiling panels, While smaller rooms may only need a section of the wall covered. You should also choose the right type of paneling material for your space, such as wood Or PVC. Once you have determined these factors, measure the area where you will install the paneling and purchase enough materials to cover it.
Installation requires some preparation beforehand. First, ensure that the walls are clean and smooth before applying any adhesive or nails.
Create a Statement Ceiling
Creating a statement ceiling is an excellent way to add interest and style to any room, especially the guest bedroom. Often overlooked, the ceiling can provide an opportunity to add texture or color that complements the overall decor of your space. Whether you have high ceilings or low ones, there are plenty of options available for creating a statement ceiling that will make your guests feel welcome and impressed.
start by choosing a bold color or pattern that complements the overall decoration of your guest bedroom. You can use wallpaper, stencils, or even paint to achieve this effect. If you're feeling adventurous, try adding dimensional elements such as molding or trim for added texture and depth.
Another great way to create a statement ceiling is by incorporating lighting fixtures into the design. Pendant lights or chandeliers can draw attention upward and add an element of sophistication to the room. Additionally, consider adding unique architectural features such as beams or coffered ceilings for added drama.
Install Herringbone Wallpaper
Transforming your master bedroom into a stylish And sophisticated space can be achieved with the installation of herringbone wallpaper. This timeless pattern adds depth And texture to walls, giving them an instant boost of character. Not only does it provide a chic backdrop for your furniture pieces, But it also creates a focal point in the room.
One great ideas when installing herringbone wallpaper in your master bedroom is to choose a neutral color palette such as beige or gray. This allows you to play around with various accent colors and textures in your decor without overwhelming the space. Another tip is to complement the wallpaper with soft lighting fixtures that create a warm and inviting atmosphere.
Whether you choose to install herringbone wallpaper on all four walls or just one statement wall, this design element will definitely make your master bedroom feel more luxurious And visually pleasing.
Use a Console Table as a Nightstand
Console tables are versatile pieces of furniture that can be used in any room of the house, including the bedroom. Using a console table as a nightstand is a creative ideas to add storage And style to your master bedroom. With its long and narrow design, A console table can fit perfectly next to the bed without taking up too much space.
One of the great benefits of using a console table as a nightstand is its ability to provide extra storage. Most console tables have drawers Or shelves where you can store books, magazines, And other bedtime essentials. This will help keep your bedside organized and clutter-free. Additionally, If you have limited closet Or dresser space in your bedroom, You can use the drawers on Your console table to store clothing.
Another advantage of using a console table as a nightstand is that it adds visual interest to your bedroom decor.
Bring in Additional Seating
Adding an extra chair Or bench to your bedroom can give you a lot more seating when you need it. This is a great idea for a small bedroom, as it can help to save space And make the most of the room you have. Many different types of benches And chairs can be used in a bedroom, So finding the right one for Your needs should be easy.
If you are looking for something comfortable And stylish, A bench made from wood Or upholstered in fabric can be a great choice. These types of benches can be placed at the end of the bed Or in another corner of the Room to provide extra seating when needed. You can also find benches that come with storage space inside them, Which can be great for storing blankets Or other items.
Go for a Built-in
When it comes to designing your master bedroom, You want to ensure that every aspect of the room complements each other. One way to achieve this is by incorporating built-in features that not only provide practical solutions but also add a unique touch to your space. From custom closets to window seats, There are plenty of ideas for master bedrooms.
Built-in closets are an excellent way to make use of the available space in Your Bedroom while keeping everything organized And easily accessible. You can customize the closet according to your storage needs, Such as adding extra shelves Or drawers. Another option is a built-in window seat that can be used for additional seating Or as a cozy reading nook with ample storage underneath.
For those who love entertainment, Consider installing built-in speakers throughout the Room for an immersive audio experience. This can also be paired with a hidden TV cabinet that blends seamlessly into the wall When not in use.
Embrace Petite Furniture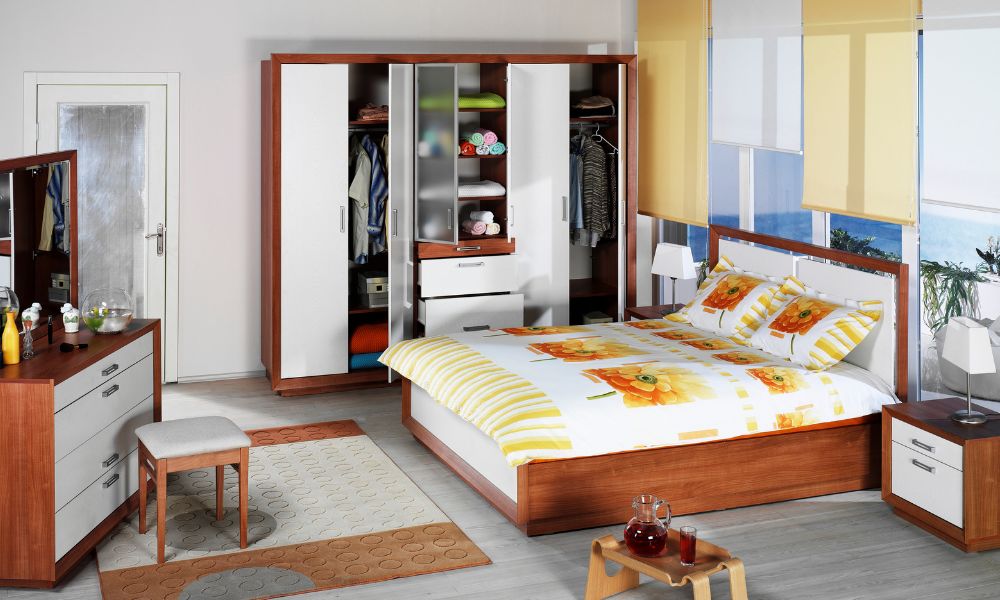 Embracing petite furniture in Your Master Bedroom can be a fantastic way to create an elegant And cozy space. With the right furniture and decor, You can maximize the available space without sacrificing style Or comfort. Whether you have a small master bedroom Or simply prefer a more intimate setting, there are plenty of stylish ideas to help you make the most of your space.
One great option for petite master bedrooms is to use multi-functional furniture pieces. For example, Consider opting for a bed with built-in storage drawers Or shelves. This will allow you to keep Your essentials close at hand while minimizing clutter in other areas of the room. Additionally, Choosing bedside tables with integrated storage can provide additional surface area without taking up too much floor space.
Another key consideration when selecting petite furniture for Your master Bedroom is color And texture.
Paint Wood Panels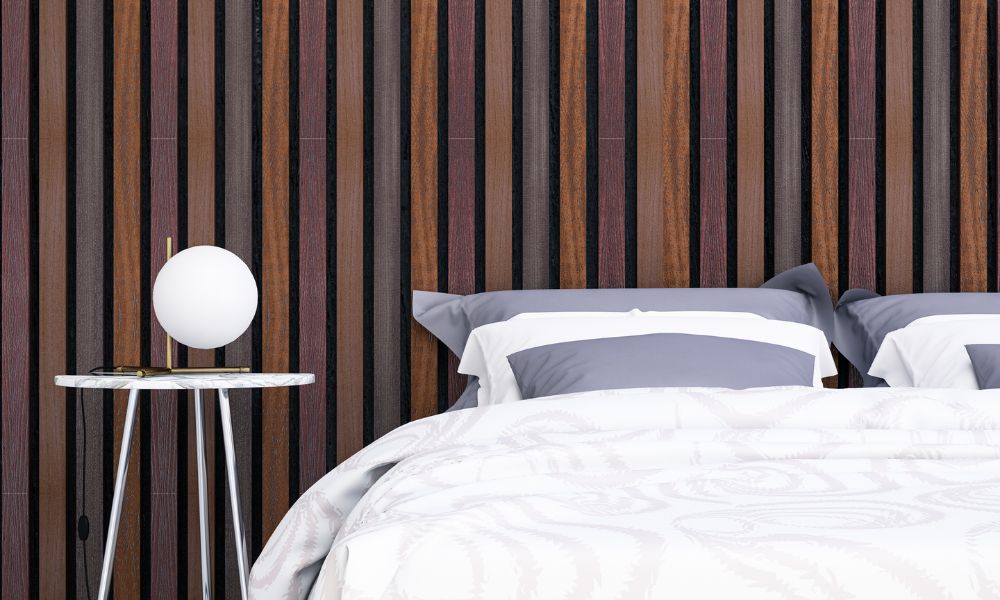 Painting wood panels is a great ideas to transform your master bedroom into a cozy haven. Whether you are looking to add a pop of color Or simply refresh the existing finish, Painting wood panels can instantly upgrade the appearance of your space. The following tips will help you achieve a professional-looking paint job that will enhance the beauty of Your Bedroom.
Firstly, It's important to properly prepare the surface before painting. This involves cleaning And sanding down any rough areas on the wood paneling. Once this is done, Apply a coat of primer to create an even base for the paint to adhere to. After letting the primer dry, You can begin painting with your desired color using smooth brushstrokes in long even strokes from top to bottom. It may be necessary to apply multiple coats depending on how deep And rich you want Your chosen color to look.
Two-Tone Walls
Two-tone walls are one of the most popular bedroom ideas for master bedrooms. The trend has been around for a while and it doesn't seem to be going away anytime soon. The appeal of two-tone walls is in their ability to create depth, interest, and visual appeal without overwhelming the space.
One way to achieve this look is by using contrasting colors on opposite walls. For instance, painting one wall a dark color and the other a light color can make a small room appear larger. Alternatively, you can opt for different shades of the same color to create a more subtle effect. This approach works well if you want to add texture or dimension without making too much of a statement.
Another way to incorporate two-tone walls into your master bedroom is through wallpapering. Wallpaper comes in many patterns and colors that can be mixed and matched to create an endless array of designs.
Swap Out Your Curtains
Swapping out your curtains is one of the easiest ways to transform your master bedroom into a cozy and inviting space. Curtains are not just functional window coverings; they can also add texture, color, and pattern to your room's decor. Whether you're looking to create a romantic ambiance or want to make a bold statement, there's a curtain style that suits every taste.
For an elegant and sophisticated look, consider hanging floor-to-ceiling curtains in luxurious fabrics like velvet or silk. These materials drape beautifully and will instantly elevate the style of any room. If you're going for a more relaxed vibe, opt for lightweight cotton or linen curtains in soft pastel shades. They'll provide privacy while still allowing plenty of natural light to filter through.
Another way to update your master bedroom with new curtains is by playing around with patterns and prints.
Decorate Your Bed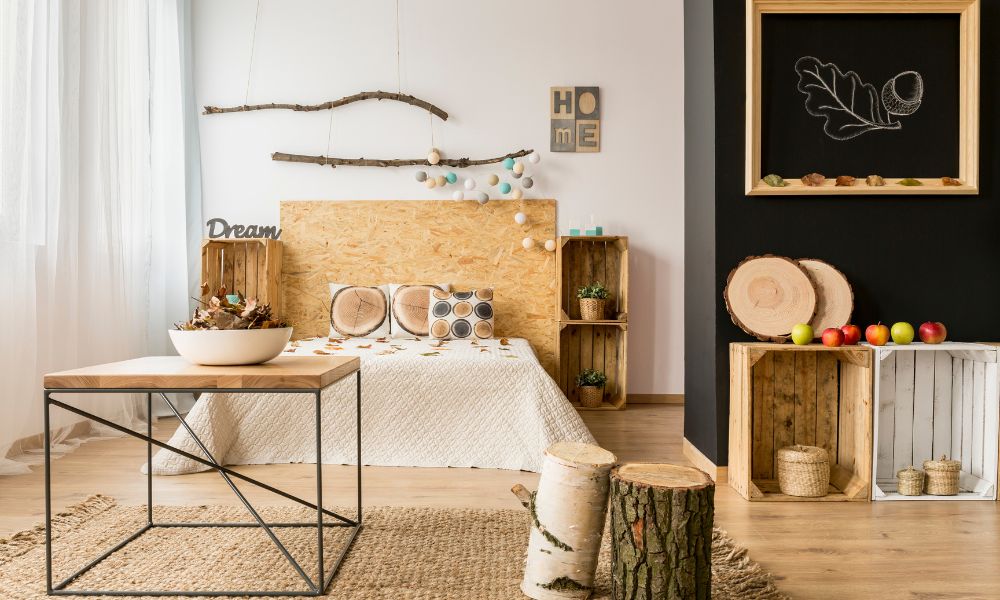 There are many ways to decorate your bed. You can add a headboard, use a bed skirt or add decorative pillows. If you have a lot of space on either side of your bed, you can add small tables or chairs. You can also add a canopy or hang curtains from the ceiling.
If you want to add some color to your bedroom, consider using colorful sheets and blankets. You can also use a throw blanket to add some color and texture to your bed. If you have a lot of artwork, you can hang it above your bed or on the walls around your bed.
Adding flowers or plants to your bedroom is another way to make it feel more like home. You can put plants in pots on your nightstands or in other places around the room. You could also try growing herbs in a window box next to your bed.
Settle on an Oversized Plant
Settling on an oversized plant for your master bedroom is a great way to add some natural beauty and character to the space. Not only do oversized plants fit perfectly in larger rooms, but they also provide a sense of tranquility and relaxation that can make all the difference when it comes to creating a comfortable sleeping environment.
One of the best things about choosing an oversized plant for your bedroom is that you have plenty of options to choose from. Whether you prefer tall and slender plants like bamboo or palm trees, or you want something with wider leaves like a fiddle leaf fig tree or rubber plant, there are plenty of choices out there that can complement any bedroom decor style.
In addition to adding visual interest to your space, an oversized plant can also act as a natural air purifier.
Turn to Mirrors
It's no secret that mirrors can create the illusion of more space. In fact, many homeowners use mirrors to make small spaces look larger. If you're looking for ideas to update your bedroom, consider using mirrors to create a more spacious feel in your master bedroom.
One way to use mirrors in your bedroom is to install them on the wall behind your bed. This will create the illusion of a longer and wider space. You can also use mirrors to add interest and depth to a plain wall. Simply hang a large mirror or cluster several smaller mirrors together on one wall.
Another great way to use mirrors in your bedroom is by incorporating them into your furniture. For example, you could add a mirrored dresser or bedside table to your bedroom design. Mirrored furniture can help create the illusion of extra space and it also adds a touch of glamor to the room.
Fill with Greenery
A bedroom should be a place of relaxation and peace. It should be a haven from the stresses of the outside world. One easy way to achieve this is to fill your bedroom with greenery. Plants can help to clean the air and create a relaxing atmosphere.
If you don't have a lot of space in your bedroom, consider using plants that don't require a lot of maintenance. Aloe vera, snake plants, and Boston ferns are all great options. If you have a little more space, you can use larger plants like fiddle leaf fig trees or palms.
Whatever plants you choose, make sure to position them in areas where they will get plenty of sunlight. You may also want to consider using scented plants like lavender or jasmine, which can help to create a calming atmosphere.
Paint an Accent Wall
Painting an accent wall can be a simple and effective way to transform the space. It's a cost-effective solution that can add depth, character, and style to any room. Here are some ideas for painting an accent wall in your master bedroom.
First, consider choosing a color that complements the existing decor and creates a harmonious balance with the other walls. For example, if you have neutral-colored furniture or bedding, try adding an accent wall in a bold shade like navy blue or emerald green. If you prefer bolder colors throughout your room, choose a softer shade for the accent wall to create contrast without overwhelming the space.
Another option is to choose wallpaper instead of paint for your accent wall. Wallpaper can add texture and pattern to your room while providing an interesting focal point.
Try on a Trend
Trying on a new trend can be a fun and exciting way to refresh your space. From bold colors to unique textures, there are plenty of trendy ideas that can elevate the look and feel of your bedroom.
One popular trend we're seeing in master bedrooms is mixing and matching different patterns. Whether it's through bedding, curtains, or accent pieces, incorporating various prints into your space can add personality and depth. Just make sure to stick with a cohesive color palette so the patterns don't clash.
Another trend that's gaining popularity in master bedrooms is creating a cozy and inviting atmosphere by adding layers of soft textures. Think plush rugs, fuzzy throw blankets, and oversized pillows in luxurious materials like velvet or faux fur. These elements not only create visual interest but also provide added comfort for ultimate relaxation after a long day.
Bring in Flowers
When it comes to bedroom ideas for the master bedroom, many people overlook the power of flowers. Flowers are a natural way to add color and beauty to any space, and they can be particularly effective in creating a cozy ambiance within your bedroom.
One way to incorporate flowers into your master bedroom is through a vase or two on your bedside table or dresser. You can choose fresh blooms that match your bedding or opt for dried arrangements that will last longer. Either way, you'll enjoy waking up each morning to the sweet scent of flowers and their uplifting presence.
Another idea is to use floral patterns in your bedding, curtains, or accent pillows. This option allows you to bring in flowers without having to worry about maintenance or upkeep. Plus, choosing patterns with different hues can help create a unique aesthetic within your space while still keeping things cohesive.
Paint the Floors
One way to add some life to a bedroom is by painting the floors. This can be a fun project for a weekend and can really change the look and feel of the room. If you are looking for bedroom ideas for your master bedroom, consider painting the floors. There are a few things you need to keep in mind when painting your floors.
First, you will need to decide what color to paint them. You can go with a light or dark color or even a pattern. Second, you will need to decide if you want to paint the entire floor or just select areas. If you choose to paint just select areas, and make sure the paint is compatible with the type of flooring you have. Finally, make sure you have all of the necessary supplies before starting.
Add Fake a Headboard
Adding a headboard to your bed can easily elevate the look of your master bedroom. However, buying a new one or having one made can be quite expensive. Thankfully, there is an affordable and easy solution: fake a headboard! Not only is it budget-friendly, but it also allows you to get creative with your design choices.
One of the easiest ways to fake a headboard is by using paint. Choose a color that complements your bedding and start creating the shape of a traditional headboard directly onto the wall behind your bed. You can use stencils or freehand if you're feeling confident in your painting skills. Another option is to create an accent wall behind your bed by using wallpaper or textured panels and adding some artwork as the focal point.
Another fun way to fake a headboard is by using objects such as tapestries, screens or even doors!
Hang a Gallery Wall
A gallery wall is a beautiful and creative way to add personality and style to your master bedroom. It's the perfect opportunity to showcase your favorite art pieces, photographs, and other decorative items in an organized and visually appealing way. Not only does it make for a stunning focal point, but it also adds depth and dimension to the room.
Before you start hanging up your artwork, it's important to plan out the layout of your gallery wall. Take measurements of the space you'll be working with and decide on how many pieces you want to include. You can create a symmetrical grid or mix different sizes and shapes for a more eclectic look. Remember that spacing between each piece is key; aim for around two inches between each frame or item.
Another great tip is to mix artwork with other decor elements such as shelves or mirrors.
Ditch Curtains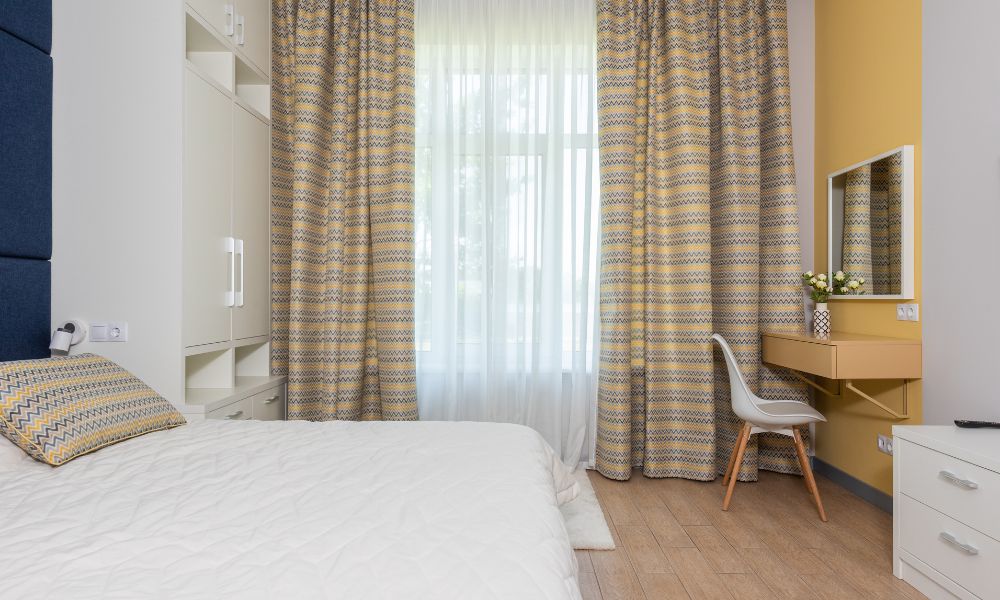 Ditching curtains in your master bedroom can be an easy way to update the look of the space and create a more modern and streamlined feel. There are endless possibilities for updating the windows in this room, from traditional blinds to contemporary shutters, or even minimalist roller shades. With so many options available, it's easy to find something that will suit your personal style and enhance the overall look of your master bedroom.
One idea is to install plantation shutters, which offer a classic yet elegant look that will never go out of style. Not only do they provide privacy but also let you control the amount of natural light entering the room. Another option is motorized shades, which allow you to adjust them with just a touch of a button on your smartphone or tablet device. This makes it easy to set different levels for morning and evening light or create complete darkness when you want to sleep in late.
Add Striped Bedding
Adding striped bedding to your master bedroom is a great way to add some depth and personality to your space. Stripes come in various widths, colors, and directions, which makes them incredibly versatile when it comes to incorporating them into your room. Whether you want bold and bright lines or subtle neutral ones, there are plenty of options for you.
One of the significant benefits of using striped bedding is that it can make your bed look more put together and polished. It can also create an illusion of a larger space if you choose vertical stripes as they draw the eye up towards the ceiling. To make sure that your new bedding fits seamlessly with the rest of your decor. Try picking a color scheme that complements or contrasts other elements in your room.
Another advantage of having striped bedding is how easy it is to style with different textures.
Create a Seating Area
When it comes to interior design, many homeowners forget about the bedroom. This is a mistake, as the bedroom is one of the most important rooms in the home. It's where you get some much-needed rest and relaxation. If your bedroom is in need of an update, consider creating a seating area.
A seating area can be created by adding a couch, chair, or loveseat to the room. If space is limited, consider using a bench or ottoman instead. Choose a piece that complements the style of your bedroom and provides comfort and relaxation.
Once you've chosen your seating area piece, it's time to add accessories. A few throw pillows and a blanket can make the space feel cozy and inviting. If you have room, add a small table for drinks or reading materials.
Conclusions
There are many different bedroom ideas for a master bedroom. It is important to choose a design that fits the individual's needs and preferences. Some aspects to consider when choosing a design include the size of the room, the color scheme, and the type of furniture. A person should also keep in mind their lifestyle and how they want to use the space. By following these tips, anyone can create a relaxing and functional master bedroom.